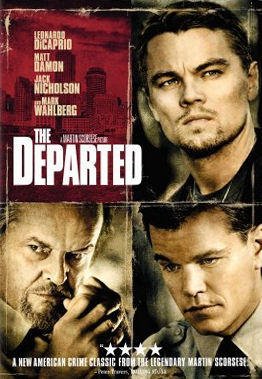 I find it so hard to believe that it's been a decade already, it just feels like yesterday that I was in fifth grade and my only concerns in the world were whether I'd win a drawing contest between a fellow classmate and myself, and whether
Dragonball Z
was coming on that afternoon. So much has changed. Back when I was 10, I wanted to be a comic book writer/artist, and my favorite things in the world were video games,
Dragonball Z
, and
Harry Potter
. Now, I'm 5 months away from 20, pursuing a career in filmmaking, and I'm still obsessed with video games and
Harry Potter
(some things never change).
Over these past 10 years there have been so many great films. The decade saw the rise of comic books in film, a rejuvination of the blockbuster, and a soft decline for the Oscars and typical Oscar fare, where films that wouldn't usually get Academy attention were jumping into the race. As the decade wore on, CGI and special effects became the big draw for filmgoers and movie stars are less important now than they were back at the start of the decade.
To me, this decade has a special meaning. It was when I really became obsessed with film and started to track films as a hobby. Since this decade was so special to me, I've decided to do something a little different than your usual 10 Best Films of the Decade List. While I am doing my own version of a 10 Best Films of the Decade List, rather than listing the films in a numerical order, trying to say which film goes above the other, I've decided to name the Best Film of Every Year of Film, from 2000-2009. Then, I will name which year I think was the Best Year of Film of the decade, and top it off with naming my personal favorite film of the Past 10 Years. As a note, any foreign film on the list, I'm counting them based upon their U.S. release and not their foreign release. Now, let's wrap up this decade in style:
2000
-
Memento
Memento
sparked what this decade was going to be all about, originality, and a lean more towards entertainment and less towards esoteric thought.
Memento
was a brilliant noir-thriller, with a twist ending that you never see coming. The film is told backwards and forwards simultaneously, unraveling the mystery behind a man named Leonard, who is searching for his wife's killer, but he has this condition that prohibits him from forming new memories, so he forgets everything about every five minutes. The film is mind-bending, and established director Christopher Nolan as a prominent figure in the film industry.
(Runner-up:
Gladiator
)
2001
-
Harry Potter and the Sorcerer's Stone
It's a pun, yes, but there is no other way to describe
Harry Potter and the Sorcerer's Stone
other than as pure movie magic. The film was the adaptation of the first book in the ever popular, and extremely endearing, book series. This faithful interpretation, directed by Chris Columbus, perfectly visualized the first installment of the story, telling it with whimsy and heart. The film is filled to the brim with adventure, comedy, mystery, friendship, and love. But putting the beautifully told story aside, the key to this film's success was it's perfect cast. Seriously, try and imagine anyone other than Daniel Radcliffe playing Harry?
(Runner-up:
The Lord of the Rings: The Fellowship of the Ring
)
2002
-
Catch Me If You Can
Steven Spielberg's finest film since the original
Jurassic Park
. He managed to bring back that good ol' Spielberg-charm that I love so much.
Catch Me If You Can
tells the story of the most successful conman in the history of the United States, Frank Abagnale, Jr., who swindled $20 million all before his 21st birthday. The film features wonderful performance from Leonardo Dicaprio and Tom Hanks, and they clearly have a lot of fun in this story that is all about growing up, the excitements of those lingering days of innocence, and the life lessons one must learn in order to lead an ordinary, adult life.
(Runners-up:
Spider-man
,
Harry Potter and the Chamber of Secrets
,
Spirited Away
, and
The Lord of the Rings: The Two Towers
)
2003
-
The Lord of the Rings: The Return of the King



The Lord of the Rings

films finally reached their pinnacle with

Return of the King

, the final installment in the storied trilogy. Frodo finally manages to reach Mordor as the final battles over the one ring to rule them all ensues. What made this installment stand out above the first two really isn't the story, but what made this one better is just the overall polish. The acting is the best here out of any of the three films, the special effects are the most breathtaking in this third installment, and the general scope of this film is five times bigger than the first two combined, it actually feels like a world at war. Regardless, the entire trilogy is a series of cinematic masterpieces.

(Runner-up:
X-2: X-Men United
)
2004
-
Eternal Sunshine of the Spotless Mind



Eternal Sunshine

is the film that took originality the next step and laced the proceedings in the form of a romantic comedy. Jim Carrey rarely gets the credit he deserves as an actor, but here he delivers his greatest performance. In the film, a corporation has developed a way to erase memories from the minds of their clients. Jim Carrey's character, Joel Barrish, signs up to have his memories of his relationship with Clementine (Kate Winslet) to be erased, but as he learns inside his mind while the memories are being erased, he doesn't want these memories to depart. This was the film that really kickstarted director Michel Gondry's career and showed that he was a director willing to tackle original material that was unique, but also full of heart.

(Runners-up:
Spider-man 2
, and
Harry Potter and the Prisoner of Azkaban
)
2005
- (Tie)
Howl's Moving Castle
/
Batman Begins
I usually hate ties, but I really couldn't decide which out of the two I liked more, they both presented such good cases, so I just figured I'd let them share the spot.
Howl's Moving Castle
is Japanese animator, Hayao Miyazaki's masterpiece. While I love
Princess Mononoke
and
Spirited Away
,
Howl
was just Miyazaki's finest balance between heart, humor, and thought. The story, involving the romance between a bewitched human and a selfish wizard was magical. Then, there was
Batman Begins
, director Christopher Nolan's reboot of the
Batman
franchise.
Batman Begins
is the greatest comic book film of all-time, partially based off of the comic series,
Batman: Year One
, it told the origins of Batman in a faithful way, infusing the proceedings with emotion and good-old-fashioned action and adventure. Not to mention, Christian Bale is the best screen Batman of all-time, and Gary Oldman shines as the future Commissioner Gordon.
(Runner-up:
King Kong
)
2006
-
The Departed

Director Martin Scorsese finally won the Best Director Oscar for

The Departed

, what I believe to be his finest accomplishment. This cat-and-mouse remake of the Hong Kong film,

Internal Affairs

, is about an undercover cop hiding out in the Irish mafia in Boston whilst being chased by a mafia mole hiding inside the police department. The film is smart, tense, and has everything one could want out of a Scorsese film. The film to me, kind of just took all of the things I like about Scorsese and just has them all within this one package, but also, unlike

Taxi Driver

, this film doesn't glorify the violence, but Scorsese shot it in a more artistic way that is less graphic, and for that reason it is far more accessible.

(Runner-up:
Casino Royale
)
2007
-
Hot Fuzz

Movies don't get much funnier than this.

Hot Fuzz i

s a parody of the action movie genre, but rather than being a straight up spoof, it channels the best of the action movie genre while telling its own rip-roaring action story with some highly original, and wildly amusing comedy. The comedic duo of Simon Pegg and Nick Frost are my new favorite comedians, and while some prefer their previous effort,

Shaun of the Dead

, this film is just more up my alley.

(Runner-up:
No Country for Old Men
)
2008
-
Slumdog Millionaire

This was such a special film, one that no one saw coming when it hit.

Slumdog Millionaire

tells the story of a young Indian slum kid, Jamal, who finds his way onto the Hindi-version of

Who Wants To Be A Millionaire?

Jamal is only one question away from 20 million rupees when he's interrogated by the police under suspicion of cheating, and he must explain how he knew all the answers to the questions from moments in his life. The film is a marvelous modern day fairy tale, telling a Dickensian story of a young street kid who manages to find something worth fighting for, the love of his life, Latika, and fights to ensure that they can live happily ever after. This is director Danny Boyle's masterpiece.

(Runner-up:
The Dark Knight
)
2009
-
Star Trek

Director J.J. Abram's smart and savvy reboot of the

Star Trek

franchise took us back to the early days of the U.S.S. Enterprise and showed us how the original crew came together and how Kirk assumed the role of Captain all whilst undergoing their first

Trek

adventure. The film was a stylish, slick action/adventure blockbuster film that was tense, exciting, and above all else, fun. The film had comedy, and moments of deep emotional resonance. It was an emotionally involving adventure yarn, the likes of which are really only seen once a generation.

(Runner-up:
Departures
)
The Best Year of the Decade
- 2002
Seriously, this year found itself with the highest number of memorable films out of any other year this past decade. From Hayao Miyazaki's Academy Award-winning stunner,
Spirited Away
, to the second installments of storied franchises like
Harry Potter
and
The Lord of the Rings
, reaching to Spielberg's double whammy of
Minority Report
and
Catch Me If You Can
, all the way to the film that kind of kicked the superhero craze into overdrive with
Spider-man
. It was just a year that seemed as if there was a fantastic film around every corner, and if you kept your eyes peeled you'd most likely discover a new film that was well worth your time.
(Runner-up: 2004)
The Best Film of the Decade
-
Harry Potter and the Sorcerer's Stone
Few films can genuinely earn the status of being an instant classic, but this is one of those select few. This is a children's classic for the modern age, much like
The Wizard of Oz
or
E.T.
, it appeals to both children and adults alike, and that is why it is such a special film. Personally, I'm a huge fan of the books, and I love these adaptations so much, in many ways they only helped increase my adoration for this world in which J.K. Rowling has created. As well, this film had something special about it that no other movie from this decade genuinely had. Whenever I view this film, I am always reverted back to my childhood, back to when I first saw it in a darkened movie theater with my older brother. This film has many great memories for me, being kind of the high point of my childhood. I just remember talking on end with my friends about
Harry Potter
at school, and what will happen next in the series. Though, not only all that,
Harry Potter and the Sorcerer's Stone
is such a special film in so many ways primarily because, no matter how many times I watch it, I am always moved by it, and that is why it's my favorite film of this past decade.
(Runners-up: 2.
Howl's Moving Castle
; 3.
Batman Begins
; 4.
The Lord of the Rings: The Return of the King
; 5.
Eternal Sunshine of the Spotless Mind
; 6.
The Departed
; 7.
Catch Me If You Can
; 8.
Hot Fuzz
; 9.
Spider-man 2
; and 10.
Slumdog Millionaire
)
Okay, I cheated a bit there. I don't care. Wont hurt my feelings.