With a week till the 85th annual Academy Awards, I figured it would be fun to do a series of Oscar themed posts leading up to the big night. Today, I'll start a two-part post examining the Most Deserved Oscar Wins of All-Time. Then, I'll follow that up with a Top 10 post, naming My 10 Favorite Best Picture Winners of All-Time, followed by a post where I play the hypothetical, "If I was in the Academy and had an Oscar ballot, how would I vote this year?" I'll name what I want to win in each Oscar category, and then I'll finish it all up next weekend posting my official Oscar predictions. However, today is all about what I believe to be the Most Deserved Oscar Wins of All-Time.
Here's how I'm gonna do this, I'm going to go by every modern Oscar category (except for the shorts) and I'll pick my favorite winner of all-time from that category. Seeing as how there are so many categories, you can understand why I'm doing this particular post in two parts. Today I'm gonna take care of half of the Oscar categories, and tomorrow I'll finish up with Part II. Obviously, since I'm going to be doing a post where I highlight my favorite Best Picture winners of all-time, I'm not going to do Best Picture in these two posts, but I will name my favorite winners from categories as varied as Best Actor all the way to Best Sound Mixing. So, without further ado, these are what I believe to be the Most Deserved Oscar Wins of All-Time!
Best Visual Effects
-
Jurassic Park
This one seems like a no-brainer, but in my opinion no other film of all-time featured special effects as groundbreaking as those in
Jurassic Park
. The work in
Jurassic Park
paved the way for modern CGI-effects by creating the first ever, photorealistic CGI characters on film. The CG dinosaurs are still believable and are the benchmark that I feel all computer generated imagery should still be judged by.
(
Runners-Up
:
Star Wars
,
The Lord of the Rings: The Return of the King
,
The Curious Case of Benjamin Button
, and
2001: A Space Odyssey
)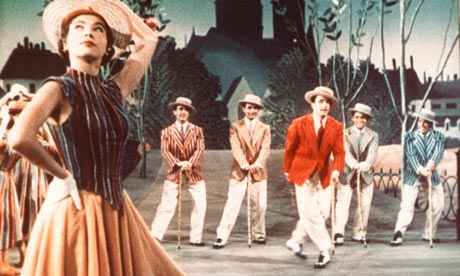 Best Costume Design
-
An American in Paris
This was a category that gave me some difficulty in finding the winner that was my personal favorite of all-time, and this was the one I came up with, purely because of the sheer volume of chic clothing in the film, and I mean, would you expect anything different from a film set in Paris? With each character's clothing representing their character's personality, this is costume design at its most colorful and glamorous.
(
Runners-Up
:
Roman Holiday
,
All About Eve
,
Some Like It Hot
, and
The Last Emperor
)
Best Cinematography
-
Close Encounters of the Third Kind
Considering how many of the most beautiful films of all-time have won this award, I may have stunned a few with this choice, but I really love the cinematography of this film. Not only was it shot by the legendary Vilmos Zsigmond, but this film's cinematography, more so than perhaps any other film in Spielberg's filmography, was able to convey Spielberg's sense of movement, love of light, and the fairy tale-like softness of each image, to create a film that is all about mystery and wonder.
(
Runners-Up
:
Gone With the Wind
,
The Third Man
,
How Green Was My Valley
, and
Days of Heaven
)
Best Sound Editing and Best Sound Mixing
-
Star Wars
I don't know if there's any other film in film history where sound played such an important
role to creating another world, or in this case, galaxy. Without the excellent sound editing and sound mixing, there would be no life to characters such as R2, Chewbacca, or Darth Vader, let alone the sounds of blasters and lightsabers, which have become so recognizable to geeks the world over.
(
Runners-Up
:
Saving Private Ryan
,
Jurassic Park
,
The Matrix
, and
West Side Story
)
Best Original Song
- "White Christmas" from
Holiday Inn
It just would feel wrong to give it to any other song, even though this is probably the most stacked category where I could have gone so many different ways. Almost every major Disney classic was eligible, as is so many other iconic songs, but there is something about the music and lyrics supplied by Irving Berlin and Bing Crosby's vocals that has made "White Christmas" not just one of the greatest film songs of all-time, but also the preeminent Christmas song.
(
Runners-Up
: "When You Wish Upon a Star" from
Pinocchio
, "Falling Slowly" from
Once
, "Beauty and the Beast" from
Beauty and the Beast
, and "Can You Feel the Love Tonight" from
The Lion King
)
Best Foreign Language Film
-
Departures
Many of the most well-respected foreign films of all-time have won this award, and I go with a more recent film that received mixed reactions
when it won, but the Japanese film,
Departures
, is one of the most beautiful films I've ever seen. The story of an encofiner in rural Japan, the film manages to represent Japanese funeral customs, whilst having universal appeal through its careful examinations of grief, loss, and forgiveness.
(
Runners-Up
:
Rashomon
,
The Bicycle Thief
,
8 1/2
, and
Dersu Uzala
)
Best Writing - Adapted Screenplay
-
Casablanca
Quite possibly one of the most deserved Oscar wins in movie history, and yet there was never a finished script. The film was constantly being rewritten, even overdubbing old lines of dialogue with new ones once the film had already been shot. Regardless,
Casablanca
stands tall as the quintessential movie script, perfectly balancing character and plot with some of the most memorable lines of dialogue of all-time.
"Here's looking at you, Kid."
(Runners-Up:
To Kill a Mockingbird
,
The Lord of the Rings: The Return of the King
,
Slumdog Millionaire
, and
The Godfather
)
Best Supporting Actor
- Heath Ledger,
The Dark Knight
Heath Ledger's performance as the Joker was one of those performances that comes along only once in a blue moon. To see an actor literally transform their entire being, from the way they talk, to the way they walk, and become a character who, on the page, is quite possibly the creepiest and most evil person imaginable, is a remarkable feat. I think the best way to sum up why this is one of the most deserved Oscar wins in history, is that you never see Heath Ledger in a single frame of this film, you only ever see the Joker. The Joker was Heath Ledger, and Ledger was the Joker.
(
Runners-Up
: Robin Williams,
Good Will Hunting
; Kevin Spacey,
The Usual Suspects
; Robert De Niro,
The Godfather Part II
; and Harold Russell,
The Best Years of Our Lives
)
Best Actress
- Audrey Hepburn,
Roman Holiday
This was the film that made Audrey Hepburn a star, and it's also my favorite of her many wonderful performances. In this film, she has the right dose of charm, regality, and naivete to play the young runaway princess at the center of the story. This is just quintessential Audrey Hepburn, and upon seeing this film, you can easily see how she became Audrey Hepburn the icon.
(
Runners-Up
: Julie Andrews,
Mary Poppins
; Jodie Foster,
The Silence of the Lambs
; Claudette Colbert,
It Happened One Night
; and Hilary Swank,
Boys Don't Cry
)
****
Tune in tomorrow as I deliver Part II of the Most Deserved Oscar Wins of All-Time!