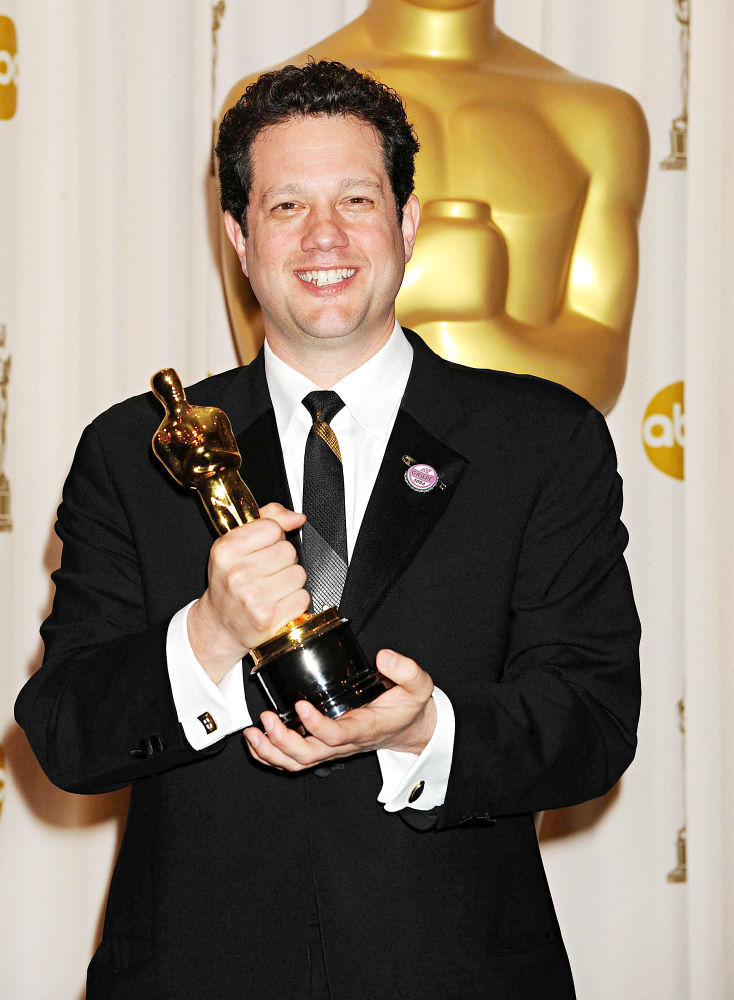 Michael Giacchino is easily one of the best film composers, not just currently working in the film and television industries, but of all-time. At the age of 45, he has often been called the, "John Williams of His Generation," but I simply view him as Michael Giacchino.
Getting his start doing video game music for the storied
Medal of Honor
franchise, Giacchino went on to become J.J. Abrams' go-to guy, composing the music for all of Abrams' TV Shows, from
Alias
to
Lost
to
Fringe
. This caught the attention of the folks over at Pixar, who enlisted Giacchino to provide the music for many of their greatest films, from
The Incredibles
, all the way to his Oscar-winning score for the film,
Up
. Now, Giacchino is one of the most sought after film composers in the world, doing music for big budget motion pictures, but he still makes time for his buddy J.J. Abrams, having composed the scores for every movie Abrams has ever directed, including
Star Trek Into Darkness
, which opens in theaters this Thursday, May 16th.
What I love about Michael Giacchino's work is how he captures the emotion of a scene in a way that very few film composers in the history of film have ever been able to do. Where most film composers rely entirely on the brass sections to create themes and motifs, Giacchino relies mostly on strings accented with brass and woodwinds to create moments. Giacchino does his due diligence, getting inside the characters and their emotions, understanding what drives them and what will make the scene even more powerful. Whether it's through creating suspense, or some of the most beautiful music you've ever heard that makes you almost want to cry, Giacchino has done it all to perfection. Not to mention the fact that the names Giacchino comes up for the tracks on his albums are priceless, such as, "Does It Still McFly?" for the musical cue in
Star Trek
when Kirk and Spock enter the ship that traveled through time.
In honor of Michael Giacchino and his body of work, I've decided to take a look back at my five personal favorite Michael Giacchino film and television scores. I only hope that someday he accepts my offer to score one of my films.
5. Up
So far this has been the only score that's brought Giacchino an Oscar, but it was duly deserved.
The music not only captures the film's sense of light-hearted adventure, but it perfectly represents the aged nature of geriatric hero Carl Fredricksen, harking back to the musical stylings from the earlier half of the 20th Century. However, what Giacchino brings most to the film is a theme that accentuates the sense of innocence, tragedy, and hope that just is Carl and Ellie's love and marriage.
4. Super 8
Channeling the best of John Williams, Giacchino's score was the best part of
J.J. Abrams' throwback to the Steven Spielberg films of the 1970s and 1980s. Giacchino represents the monster with a simple five note motif that lets you know whenever it's close, much like
Jaws
, but he also creates two separate string based themes that are the soul of the movie. One is a theme that just musically generates images of childhood in your mind's eye, and the other is the soulful main theme of the movie that accentuates loss and the need to let go. All three of these themes can be heard in the, "Super 8 Suite," posted below.
3. Star Trek
This is one of those film scores that I just find myself listening to all of the time. What Giacchino did with J.J. Abrams' reboot, was that he created a theme that is repeated so much throughout the film, in many different variations, that it gets lodged in your subconscious and it becomes unforgettable. I just find myself humming this theme at the most random of times. When I'm driving, or when I'm taking a shower, and I long to hear the tracks from the film, it's just that powerful of a theme. Capturing the thematic idea of hope that rests at the center of the
Star Trek
franchise, while also infusing a sense of militaristic adventure in the way Giacchino arranges the theme throughout the film, this is a score that I would say is equal to anything John Williams ever did with
Star Wars
. It's that good.
2. Lost
This was the first time I ever saw a TV Show where I actually
wanted to own the soundtrack. I think it's safe to say that Michael Giacchino's music is one of the things that separated
Lost
from other TV Shows. He brought a cinematic quality to television, by using real instruments and not synthesizers, that gave
Lost
this larger than life cinematic quality that ultimately lent the show its identity. Some of the most beautiful music I've ever heard came from Giacchino's work on
Lost.
With a recognizable theme for every character,
Lost
is a score that gets easily stuck in your head and you just want to hear those themes over and over again. Sometimes I find myself rewatching episodes just to hear certain moments of Giacchino's score again, blaring through my TV's speakers.
1. The Incredibles
The funny thing about Michael Giacchino's score for
The Incredbiles
, is that it's unlike any of his other scores, in that it's heavily reliant on the brass section, and yet it works perfectly for the material. Giacchino infuses the film with an equal dose of big band swing and smooth jazz to create tracks that are heroic, mysterious, and adventurous. Harking back to the great John Barry James Bond scores, while also brining Giacchino's own personal love for jazz and swing music into the mix, it makes
The Incredibles
one of the most enjoyably original film scores in the history of cinema. Give it a listen.